If you wish to contribute or participate in the discussions about articles you are invited to contact the Editor
WAAS Ground Segment
Jump to navigation
Jump to search
WAAS

Title
WAAS Ground Segment
Edited by
GMV
Level
Basic
Year of Publication
2011
The Wide Area Augmentation System (WAAS) is the United States Satellite Based Augmentation System. The programme, started in 1992, is being carried out by the Federal Aviation Agency (FAA)[1] and is specially developed for the civil aviation community.[2] The system, which was declared operational on July 10, 2003,[3] currently supports thousands of aircraft instrument approaches in more than one thousand airports in USA and Canada.[4] WAAS service area includes CONUS, Alaska, Canada and Mexico.[5] The WAAS programme is continuously in evolution; three development phases have been already covered, and there are on-going plans to improve the capability of the system in parallel with the evolution of the SBAS standards towards a dual-frequency augmentation service.[6]
WAAS Ground Segment
WAAS works by processing GPS data collected by a network of reference stations to generate the SBAS message which is uploaded to the GEO satellites. The GEO satellites broadcast this information to the user receivers, which compute the aircraft positioning and inform on potential alert messages.[7]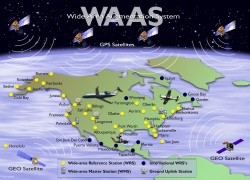 The WAAS system components are typically divided in three different segments: the ground segment, encompassing the system assets located on ground, the space segment, including the GEO satellites used to broadcast the information to the users, and the user segment, consisting in the users themselves.
The WAAS Ground segment is composed of:[7]
38 widely-spaced Wide-area Reference Stations (WRS), located in North America (continental U.S., Puerto Rico, Alaska, Canada and Mexico) and Hawaii: the WRS stations collect GPS data.
3 WAAS Master Station (WMS): the WRS collected data are forwarded to the WAAS Master Station (WMS) via a terrestrial communications network. At the WMS, the WAAS augmentation messages are generated.
6 Ground Uplink Stations (GUS): they are in charge of the transmission of the WAAS messages generated by WMS stations to the navigation payloads on Geostationary communications satellites for rebroadcast to the users.
2 Operational Control Centers (OCC), used to monitor the system performance and to carry out the necessary corrective and periodic maintenance operations located at the National Operations and Control Center (NOCC) and Pacific Operations Control Center (POCC).[8]
WAAS terrestrial communications network that provides the communications link between the WAAS subsystems for transmitting WAAS data.
List of reference stations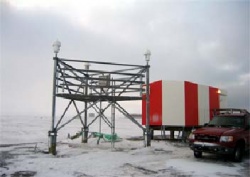 The WAAS Wide-area Reference Stations (WRS) are located in USA, Canada, Mexico and Puerto Rico. Regarding the US stations, each of the FAA Air Traffic Control Centers, but Indianapolis, hosts one WRS.[9]
For completeness, the list of WRS stations with their coordinates are shown in the next table (taken from WAAS article in Wikipedia[10] ):
| City | ICAO airport code | Location | Elevation |
| --- | --- | --- | --- |
| Bethel, Alaska | PABE | 60.787898226ºN 161.841705626ºW | 52.202 m |
| Billings, Montana | KBIL | 45.803726761ºN 108.539727967ºW | 1112.261 m |
| Barrow, Alaska | PABR | 71.282786134ºN 156.789914977ºW | 15.581 m |
| Cold Bay, Alaska | PACD | 55.200376531ºN 162.718528459ºW | 53.652 m |
| Fairbanks, Alaska | PAFA | 64.809686817ºN 147.847403468ºW | 149.888 m |
| Honolulu, Hawaii | PHNL | 21.312783159ºN 157.920876933ºW | 24.922 m |
| Juneau, Alaska | PAJN | 58.362530123ºN 134.585495176ºW | 16.024 m |
| Mérida, Yucatán (Mexico) | MMMD | 20.931919004ºN 89.662872977ºW | 29.157 m |
| Mexico City (Mexico) | MMMX | 19.431653193ºN 99.068389463ºW | 2236.638 m |
| Puerto Vallarta, Jalisco (Mexico) | MMPR | 20.679034758ºN 105.249200735ºW | 11.077 m |
| San José del Cabo, Baja California (Mexico) | MMSD | 23.160416093ºN 109.717667886ºW | 104.286 m |
| Tapachula, Chiapas (Mexico) | MMTP | 14.791340027ºN 92.367991216ºW | 54.922 m |
| Kotzebue, Alaska | PAOT | 66.887352636ºN 162.611355542ºW | 10.911 m |
| Iqaluit, Nunavut (Canada) | CYFB | 63.731446844ºN 68.543393603ºW | 9.998 m |
| Gander, Newfoundland and Labrador (Canada) | CYQX | 48.966447828ºN 54.597532074ºW | 146.891 m |
| Winnipeg, Manitoba (Canada) | CYWG | 49.900606898ºN 97.259280113ºW | 222.046 m |
| Goose Bay, Newfoundland and Labrador(Canada) | CYYR | 53.308720955ºN 60.419401330ºW | 37.842 m |
| Albuquerque, New Mexico | KZAB | 35.173560874ºN 106.567308273ºW | 1620.154 m |
| Anchorage, Alaska | PAZA | 61.229174557ºN 149.780364869ºW | 80.654 m |
| Aurora, Illinois | KZAU | 41.782616622ºN 88.331308050ºW | 195.922 m |
| Nashua, New Hampshire | KZBW | 42.735705193ºN 71.480378445ºW | 39.141 m |
| Leesburg, Virginia | KZDC | 39.101556058ºN 77.542750106ºW | 80.085 m |
| Longmont, Colorado | KZDV | 40.187286655ºN 105.127181633ºW | 1541.389 m |
| Fort Worth, Texas | KZFW | 32.830614792ºN 97.066488376ºW | 155.604 m |
| Houston, Texas | KZHU | 29.961833882ºN 95.331462501ºW | 10.947 m |
| Hilliard, Florida | KZJX | 30.698824796ºN 81.908178358ºW | 2.141 m |
| Olathe, Kansas | KZKC | 38.880140378ºN 94.790729104ºW | 305.814 m |
| Palmdale, California | KZLA | 34.603503189ºN 118.083872233ºW | 763.546 m |
| Salt Lake City, Utah | KZLC | 40.786007936ºN 111.952158417ºW | 1287.420 m |
| Miami, Florida | KZMA | 25.824644475ºN 80.319246501ºW | -7.882 m |
| Memphis, Tennessee | KZME | 35.067423639ºN 89.955391700ºW | 68.788 m |
| Farmington, Minnesota | KZMP | 44.637444415ºN 93.152039309ºW | 262.667 m |
| Ronkonkoma, New York | KZNY | 40.784293219ºN 73.097181151ºW | 6.108 m |
| Fremont, California | KZOA | 37.543019928ºN 122.015922570ºW | -3.459 m |
| Oberlin, Ohio | KZOB | 41.297135898ºN 82.206391657ºW | 224.115 m |
| Auburn, Washington | KZSE | 47.286919203ºN 122.188372739ºW | 82.128 m |
| San Juan, Puerto Rico | TJZS | 18.431249167ºN 65.993480433ºW | -28.547 m |
| Hampton, Georgia | KZTL | 33.379671593ºN 84.296678124ºW | 261.142 m |
Notes
References