If you wish to contribute or participate in the discussions about articles you are invited to contact the Editor
Galileo Public Regulated Service (PRS)
Jump to navigation
Jump to search
GALILEO

Title
Galileo Public Regulated Service (PRS)
Edited by
GMV
Level
Basic
Year of Publication
2011
The GALILEO System is an independent, global, European-controlled, satellite-based navigation system and provides a number of guaranteed services to users equipped with Galileo-compatible receivers. The GALILEO Public Regulated Service (PRS) provides position and timing restricted to government-authorised users, for sensitive applications which require a high level of service continuity.[1] It is encrypted and designed to be more robust, with anti-jamming mechanisms and reliable problem detection. This service is intended for security and strategic infrastructure (e.g. energy, telecommunications and finance).[2][3]
PRS is one of the important features of Galileo that adds value compared to other satellite navigation systems. The access to PRS is limited to authorized governmental bodies.[3]
Purpose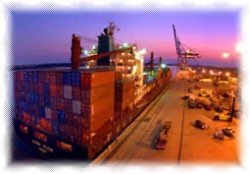 Galileo is a civil system that also includes a robust and access-controlled service for government-authorized applications. The Public Regulated Service (PRS) is intended for use by groups such as police, coast-guards and customs. Civil institutions will control the access to the encrypted PRS. Access by region or user group will follow the security policy rules applicable in Europe.
The PRS is similar to Galileo's Open and Commercial GNSS services but with some important differences to make it operational at all times and in all circumstances, including during periods of crisis. PRS is intended to ensure better continuity of service to authorised users when access to other navigation services may be degraded (resilience) and in cases of malicious interference, PRS increases the likelihood of the continuous availability of the Signal-in-Space (robustness)[3] .
A major PRS driver is the robustness of its signal, which makes it more costly and difficult to be attacked, thus the service is more resistant to jamming and spoofing.[4]
The PRS provides a higher level of protection against the threats to Galileo Signals in Space through the use of appropriate interference mitigation technologies. The need for the Public Regulated Service (PRS) results from the analysis of threats to the Galileo system and the identification of infrastructure applications where disruption to the Signal in Space (SiS) by economic terrorists, malcontents, subversives or hostile agencies could result in damaging reductions in national security, law enforcement, safety or economic activity within a significant geographic area.
The objective of the PRS is to improve the probability of continuous availability of the SIS, in the presence of interfering threats, to those users with such a need. The introduction of interference mitigation technologies carries with it a responsibility to ensure that access to these technologies is adequately controlled to prevent misuse of the technologies against the interests of Member States.
Performance and features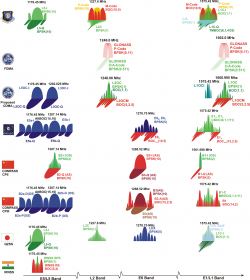 The Galileo Public Regulated Service is accessible through two signals, one in the 1575.42 MHz band and the other in the 1278.75 MHz band, permanently broadcast. They are wide band signals so as to be resistant to involuntary interference or malicious jamming and therefore offer a better continuity of service. These signals are encrypted, allowing the implementation of an access control scheme.[4] [1]
The Public Regulated Service access will be controlled by the authorities to be defined at European level, through the encryption of the signals and the appropriate key distribution. Member States will maintain control of distribution of receivers.
The performance objectives in terms of position accuracy and availability are described in next table: [1]
Service Performances for Galileo PRS
Galileo Public Regulated Service (PRS)
Dual Frequency (DF)
Accuracy (95%)
Horizontal: 6.5 m
Vertical: 12 m
Availability
99.5 %
Timing Accuracy wrt UTC/TAI
30 ns
Ionospheric Correction
Based on DF Measurements
For more information about PRS performances, see the article Galileo Performances.
Implementation and PRS Applications
PRS services are available since the Galileo Initial Services Declaration in December 2016 together with the Galileo Open and Search and Rescue Services. Full Operational Capability is expected for 2020. [5]
Key elements in the PRS service design comprise[3]:
Galileo Security Facility: this includes the Galileo Security Monitoring Centre (GSMC);
Ground Segment: this includes the Galileo Control Centre, which consists of the Galileo Mission System (GMS), Galileo Control System (GCS), Galileo Sensor Stations (GSS) and the Uplink Station (ULS);
Space Segment: Galileo satellites broadcast the PRS signal in space;
User Segment: this includes individual end-users with PRS receivers and a support and management framework within in each authorised PRS participant.
Each Member State wishing to use PRS shall set up a "Competent PRS Authority (CPA)". This authority manages and controls end-users as well as the manufacture of PRS receivers. It also ensures adherence to clearly-defined security standards. Coordination on a European level guarantees consistency and conformity with the high level of security required. The legislative proposal shall be forwarded to the European Parliament and the Council for approval as part of the ordinary legislative procedure.
PRS applications can be used by emergency services, critical transportation, energy or telecom and defence purposes: even if Galileo is the first civilian GNSS in the world, nothing prevents the Member States to use it for military purposes. In this context, the PRS can have important impacts on the Europe's Common Foreign and Security Policy (CFSP) and on the European Security and Defence Policy (ESDP).[6]
Typical applications include:
Trans-European level

Law Enforcement (EUROPOL, Customs, European Anti-Fraud Office - OLAF);
Security Services (Maritime Safety Agency) or Emergency Services (peace keeping forces or humanitarian interventions);

Member States levels

Law enforcement;
Customs;
Intelligence Services.
Notes
References