If you wish to contribute or participate in the discussions about articles you are invited to contact the Editor
Location Based Services
Jump to navigation
Jump to search
Applications

Title
Location Based Services
Author(s)
Rui Barradas Pereira, GMV
Level
Basic
Year of Publication
2011
Location Based Services (LBS) include applications that depend on the user location to provide a service/information that is relevant to the user at that location.
LBS normally use mobile devices with positioning ability to provide the service or information to the user. LBS can be used for personal or professional purposes although most of the services covered here are for personal use since professional services will be covered in other sections[1].
Brief History of Location Based Services
Location based Services resulted from the convergence of 3 technologies in one device: mobile internet access, positioning and rich user interfaces. Until the late 1990's the available mobile devices mostly supported only voice and SMS and had few user interface capabilities. Although these technologies could theoretically already support very crude location based services (using SMS and celular network based localization), only after the introduction of WAP and internet access in mobile phones there is news of the first generally available location based services.
The 1999's Palm VII is considered the first LBS capable mobile device although the LBS applications it provided relied on zip code information to have the user positioning[1].
Also in 1999, WAP enabled phones start to appear on the market providing internet access and a richer user interface than previously available[2].
The service FriendZone is considered the first LBS service to be offered by a mobile phone operator in May 2001 after a preliminary trial that started in January 2001[3].
The improvements on user interfaces and the availability of mobile phones with high resolution touch-screens made possible applications with richer interfaces sometimes comparable to desktop computers.
Initially the location was provided by celular network based localization. With the availability of cheap and small GNSS chipsets more and more mobiles are satellite positioning enabled.
Current Status of Location Based Services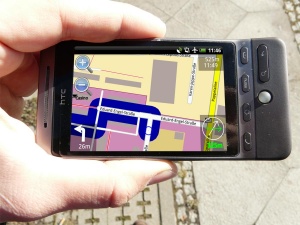 Currently, navigation technologies in consumer devices such as mobile phones are enabling a massive boom in location-based services, with new commercial opportunities based on the ability of users to identify their precise location relative to services, amenities and other people[4].
The GNSS penetration in LBS devices of which 90% are smartphones reached 20% in 2012. With the growing penetration of tablets and increased GNSS usage in digital cameras, the smartphone share will decrease over the next decade, according to the forecasts provided by GNSS Market Report, Issue 3. However the overall penetration is foreseen to increase as we continue to depend upon a growing number of mobile apps for navigation, personal tracking, emergency calling, gaming, advertising, social interaction and general well-being.[5] In addition the emerging multi-constellation GNSS receivers, as the GPS+Galileo combination will improve accuracy and create new LBS opportunities.[6]
Location Based Services categorization
There is a wide variety of services that can be considered location based services. The types of services and applications that can be considered part of LBS is very heterogeneous.
For the purpose of this categorization were considered services or applications that usually require a multimedia mobile interface, internet access and positioning. Some services or applications that can be considered as LBS are being described in different sections, some of them because they do not necessarily include the three previously mentioned components (multimedia, internet and positioning), or because can be best fitted in other application groups. For instance, navigation was included in the Road Applications section.
Location based Information Streams
Location based Information Streams consists on pushing information to the user depending on its location and on the assumption that this information will be useful and welcomed by the user.
The information provided by these services can vary from information of nearest services or stores, to alerts on traffic jams and location based advertising. In some cases the information is provided without user request while on others the information is provided on request.
Detailed information about Location based Information Streams can be found here.
Tourist Information
Tourist Information applications provide guidance and landmark information to tourists typically in urban environments.
Some of the most usual tourist information services could be fitted in the Location based Information Streams but since tourist applications can have been one the most dynamic areas of LBS and increasingly sophisticated applications are being deployed it makes sense for tourism applications to be a separate category.
Tourism Information applications can range from providing the user with the nearest restaurant or landmark to be a full blown city guide with multimedia information and guided audio tours.
Detailed information about Tourist Information Applications can be found here.
Games
The availability of consumer GNSS receivers and GNSS enabled mobile devices made possible the use of GNSS for gaming. The oldest and still the most popular GNSS game is Geocaching. Geocaching combines treasure hunt with trekking and outdoor activities[7][8].
More recent GNSS based games rely on mobile devices with multimedia interfaces and permanent internet connection. Often these games are multiplayer games that take place in urban environments. Common themes are scavenger hunts, role playing and adventure games[9].
Detailed information about GNSS Games can be found here.
Carpooling and Transport on Demand
Carpooling and hitchhiking has a long tradition throughout the world. The traditional methods to arrange rides vary from informal pick-points, manned booking agencies to web based booking sites[10]. GNSS enabled mobile devices have allowed the creation of what is sometimes called dynamic carpooling. These carpooling applications allow on the fly matching of drivers and passengers in a effective way[11].
This concept can be used in a similar way for Transport on Demand schemes where travel requests can be matched to vehicles that can assure the ride with minimal deviation from the current course.
Detailed information about Carpooling and Transport on Demand can be found here.
References