If you wish to contribute or participate in the discussions about articles you are invited to contact the Editor
Precision Agriculture
Jump to navigation
Jump to search
Applications

Title
Precision Agriculture
Edited by
GMV
Level
Intermediate
Year of Publication
2011
The agricultural community will face great challenges in a worldwide scale during the next years. Farmers will have to compete with quality products, while respecting the environment and earning profits at the same time. Meanwhile, the world population will continue to increase, creating a constant demand and pushing for a production increasing.
Satellite navigation is being used in agricultural applications for crop and soil monitoring as well as surveying the fertility of agricultural fields in order to control the distribution of chemicals and fertilizers. The global market size for precision farming has been estimated to grow over $6.34 billion by 2022 at an estimated CAGR of 13.09% from 2015 to 2022 [1].
The needs of the fishing sector have also grown, ranging from day-to-day operational support to the navigation and positioning of fishing vessels. Strict international rules governing intrusion into national waters demand that vessels are monitored to check they work only in designated areas. [2].
Application Architecture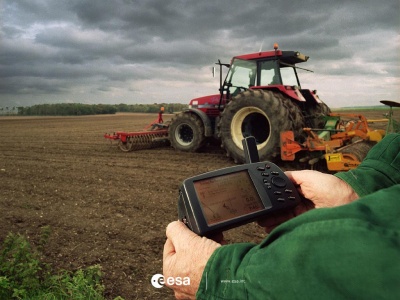 By integrating GNSS with other technologies, the Agriculture industry can benefit from:
Improving the monitoring of the distribution and dilution of chemicals.
Improving parcel yield from customized treatment.
More efficient property management.
GNSS-based agricultural applications will often integrate Geographical Information Systems (GIS) data with position data making these systems more effective. Usually these systems offer the following capabilities[3]:
GPS mapping service: This service provide detailed information about fields, aid to create new maps, verify existing maps or add information to existing maps. The precision maps are usually acquired from specialized companies. The maps will have a number of features such as soil conductivity to identify differences within field soils
Soil sampling and nutrient mapping applications: These applications will help to map where the fertilizers are needed, as well as the exact quantities to be applied in each area. The knowledge of the soil characteristics will be improved, the fertilizer costs can be reduced and the cultures can be tailored to use the most adequate fields.
Altitude mapping: These capabilities aid drainage and crop plans. Farmers need to be able to map the high and low-yield areas of fields so that a varying application of chemicals can improve the yield with minimum environmental impact and cost.
Time crop applications: These applications will permit an efficient crop stage management.
Crop surface measurements: These applications will allow farmers to declare their actual cropped area, for situations such as insurance claims, without relying on historical cadaster documents that show property lines, not the actual agricultural parcels that change every season.[2]
Low technology solutions
Low technology GNSS solutions are used for low-value crop cultivation like cereals, low accuracy operations such as fertilizing, or reaping and for agro-logistic applications such as land parcel identification, or field measurement. Most techniques rely on standard GNSS receivers complemented by free satellite based augmentation services such as WAAS or EGNOS. The level of accuracy achieved is below 1 meter.[4]
High technology solutions
High technology GNSS solutions are more costly and mostly used for high-value crop cultivation, for instance potatoes and vegetables or precision operations such as sowing and transplanting. In organic agriculture, herbicides can be substituted by mechanical treatment. More advanced positioning technologies, such as local and regional Real Time Kinematics (RTK) systems or commercial satellite based augmentation services such as Omnistar, or StarFire, are used. The levels of accuracy achieved are in the range of 2 to 10 cm. [4]
Fisheries solutions
The Fisheries community benefits are the following:
More effective information exchange between vessels and stations.
Improving fishing capabilities.
Improving navigation aids for fishermen.
Better navigation aids for fishermen and more effective exchange of information between vessels will enable better management of fish stocks. The Safety of Life service will mean more lives saved when fishing accidents occur.[5]
Application Characterization
Precision agriculture
Precision agriculture is refered as the use of satellite navigation to coordinate crops, soils and various agriculture mappings together with monitoring and subsequent analysis of data for optimum field application of chemical and fertilizer.[6]
The integration of GNSS with other technologies means the agriculture community improves distribution and dilution of chemicals, better manage land and improve yields with the targeted application of nutrients.[5]
The precision agriculture requires augmentation systems such as WAAS or EGNOS, which has been widely used by agriculture applications, by over 1 million users in the agricultural field alone in the United States.[6]
The OmniSTAR is a more precise augmentation service, providing an accuracy of 1-2 inches and long term repeatability of better than 10 cm, which is suited for precision agriculture systems and tasks, such as:[7]
Steering systems,
Spreading,
Seeding,
Harvesting and
Spraying.
The OmniSTAR also offers a repeatable capability, allowing the users to return to the same position, which is often used in precision agriculture.
Fisheries
Fishing vessels will rely on Maritime Navigation mechanisms. Fish finder location capabilities will enhance the productivity and efficiency of fisheries, as well as granting a sustainable sea fauna protection.
The long journeys and the global nature of fishing activities mean that satellites provide the only viable and reliable method of navigation. Modern fishing vessels travel the globe pursuing commercial returns, at the same time sending regular position reports (position, speed and heading) to their shore-based control centers, and occasionally catch information and a breakdown of fishing effort. National and international laws mean that non-compliance can prove very expensive in terms of fines and withdrawal of fishing rights.[2]
Monitoring fishing applications
Fishermen need accurate position information to locate their assets. Traditional methods often rely on local knowledge and historical patterns of net laying. Transmissions back to the mothership from free-floating and static devices would improve fishing capabilities. Uninterrupted views of the sky make the high seas an ideal environment for drawing on satellite technology.[2]
Application Examples
The worldwide Differential GPS services:
The following vendors are the major GNSS solutions producer in the agriculture segment:
Nowadays, many agricultural machinery manufacturers are producing equipments with GNSS guidance systems incorporated. Some companies like John Deere are present in service provision and devices markets, applications market and vehicle manufacture market.
Online agricultural management projects such as Agrista, provide services where farmers can store farm information and exchange data with their business partners and service providers, using GNSS products to obtain information.[8]
Notes
References