If you wish to contribute or participate in the discussions about articles you are invited to join Navipedia as a registered user
Maritime Products
Jump to navigation
Jump to search
Applications

Title
Maritime Products
Edited by
GMV
Level
Intermediate
Year of Publication
2011
Many maritime commercial activities are starting to use GNSS products. Fleet management, cargo monitoring, and delivery and loading schedules are optimized. Even the location of shipping containers can be facilitated, and GNSS could be used for automatic piloting of barges. Within harbors, systems for information services tailored to each ship's location are being considered. In inland waterways, accuracy and integrity of navigation data are essential to automate accurate manoeuvres in narrow rivers and canals. In fishing, GNSS helps to locate fisheries, traps and nets.[1]
Nowadays, GNSS receivers can be found on all existing types of vessels. Alike the aviation market, in maritime market many leisure small boat owners use portable handheld devices that can be easily replaced. GNSS is being used in every phase of marine navigation: ocean, coastal, port approach and port manoeuvres, under all weather conditions [2] and by all helmsman's in leisure boats, commercial vessels, and unregulated and and Safety of Life at Sea (SOLAS) regulated ships.[3]
Overview of Maritime Products
GNSS is a reliable, safe and accurate tool for maritime navigation in any phase, being an improvement in terms of safety of life and in search and rescue services.
The maritime GNSS-based products will have impact in many areas of the maritime segment, such as:
Open sea and harbor navigation,
Narrow channel navigation,
Automatic Identification System (AIS),
Routing,
Control of dangerous goods,
Container tracking,
Mapping and charting,
Hydrographic surveying,
Pipes and cable laying,
Buoying,
Dredging control.
However, the most common products available in the maritime segment are the chartplotters. The success of these devices is given by the unit's navigation capabilities, as well as, the integration of other functionalities within such products.
The chartplotters devices provide features such as:
Navigation in 3D maps.
Integration of other sensors and devices, such as barometric altimeter, depth sounder, electromagnetic compass or radar, among many others.
Fishfinder location capabilities.
Chartplotters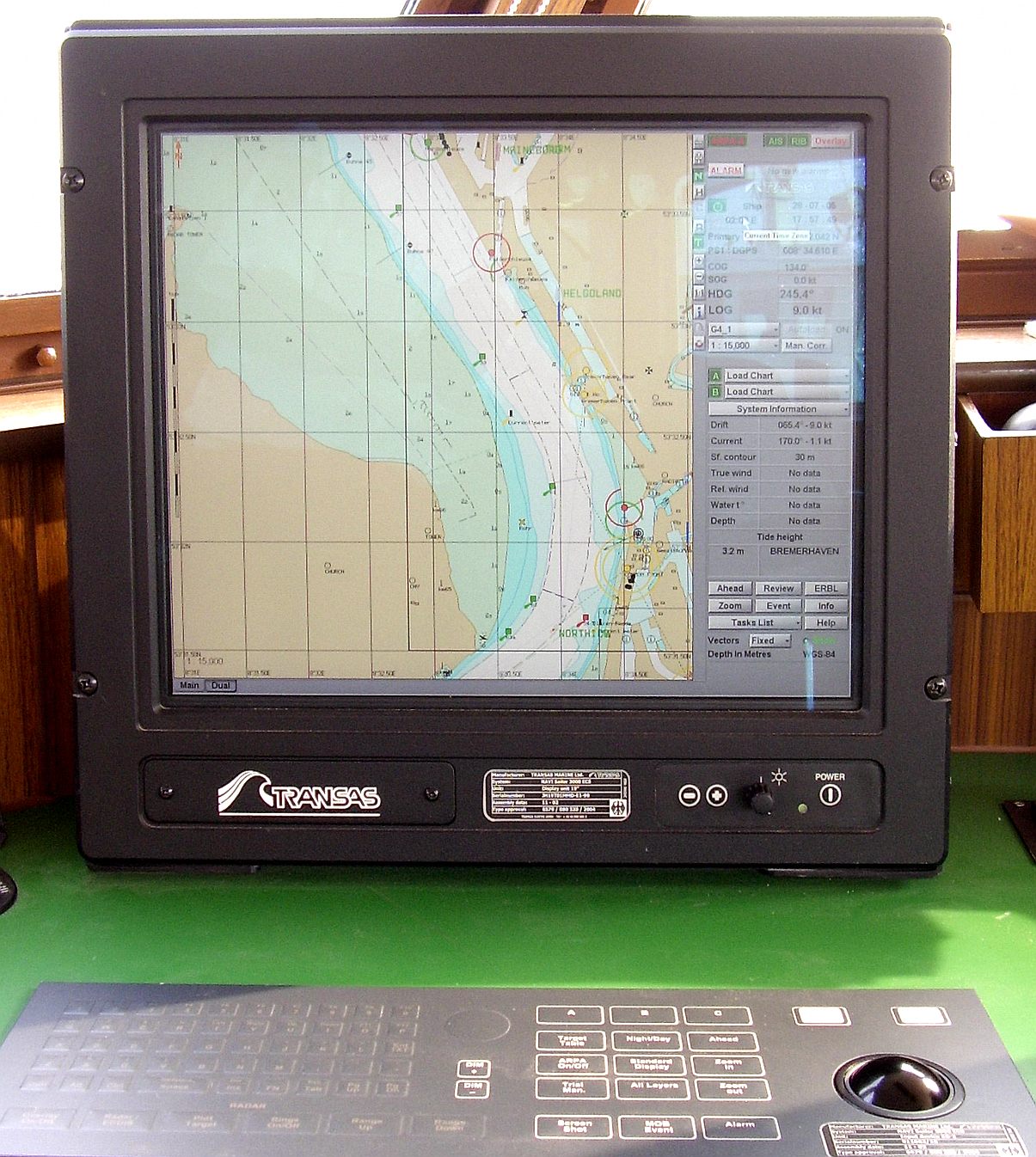 The chartplotters are dedicated devices meant to be used in maritime navigation activities.
There are two types of maritime products using GNSS technology, the handheld devices and the chartplotters units. There is also the option of using a computer connected to a GNSS receiver, running a chartplotter software.
These products provide assistance in three major nautical activities: maritime en route navigation, collision avoidance (using AIS) and fishing activities.
Detailed information about Chartplotters can be found here.
Notes
References