If you wish to contribute or participate in the discussions about articles you are invited to join Navipedia as a registered user
European Satellite Navigation Competition
Jump to navigation
Jump to search
Applications

Title
European Satellite Navigation Competition
Author(s)
Kathrin Sturm, ESNC
Edited by
GMV
Level
Basic
Year of Publication
2015
The European Satellite Navigation Competition (ESNC) is an annual international innovation competition that recognises the best ideas in the field of downstream applications based on satellite navigation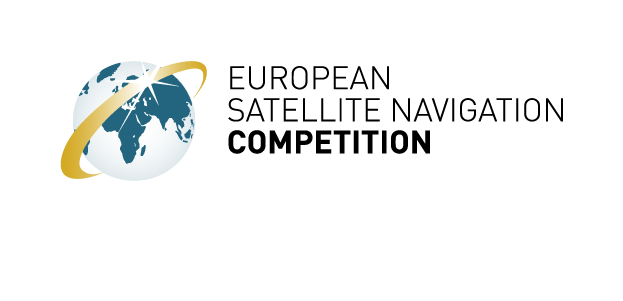 The European Satellite Navigation Competition (ESNC) is an annual international innovation competition that recognises the best ideas in the field of downstream applications based on satellite navigation. The competition was previously known as "Galileo Masters" due to its particular focus on the development of applications and services made possible by Europe's independent civil satellite navigation system, GALILEO. From start-ups and students to research institutes, virtually anyone is free to participate. The ESNC was inaugurated in three regions in 2004 under the patronage of the Bavarian Ministry of Economic Affairs and continues to be organised by Anwendungszentrum GmbH Oberpfaffenhofen (AZO), one of the main drivers of entrepreneurship in the market for downstream space products and services in Europe. With the support of the most relevant stakeholders in the field – such as the European Commission (EC), the European GNSS Agency (GSA), the European Space Agency (ESA), and the German Aerospace Center (DLR) – the competition has since grown into the leading global network of innovation and expertise in Global Navigation Satellite Systems (GNSS). As of 2014, it has welcomed more than 9,000 participants from 4,263 registered teams and chosen a total of 241 winners. Its wider organisation, meanwhile, comprises the world's largest space-related incubation network, with more than 40 incubators located all over Europe – from regional incubators to the incubators of the European Space Agency. Each year, it also tasks more than 240 experts with evaluating the entries submitted to the competition and advising participants on how to improve their ideas. The ESNC's focus is generally very international: In 2015, for instance, 515 ideas were submitted from more than 40 countries around the world. Many of these business cases have already been implemented and successfully brought to market.
Mission
Positioning and navigation already play an important role in our everyday lives, and the corresponding market is growing at a rapid pace. According to the GSA Market Report 2013, the volume of the core global GNSS market is currently estimated at EUR 165 billion.
The initial mission of the ESNC was to support the commercial use of space technology – in particular by aiding the transfer of space technologies and infrastructures into non-space applications. Over the past decade, the competition has grown into a huge international network that serves several important aims. For example, it is a key instrument in promoting the European space programmes GALILEO and EGNOS and their manifold application potential, as well as in preparing the market for European GNSS with a special focus on in the space sector. The ESNC is also an important tool for strengthening international collaboration among the relevant space stakeholders in Europe and beyond. Finally, the competition provides a Europe-wide infrastructure that supports the creation of new companies, spin-offs, and jobs in the downstream space sector, which has led to its inclusion in the European Commission's current Galileo Action Plan.
The European Satellite Navigation Competition (ESNC) annually rewards innovative applications that make use of satellite navigation in new and innovative ways for the downstream commercial market. The competition aims to support innovative ideas for commercial applications by offering prizes as well as providing an infrastructure for entrepreneurs, start-ups, and participants in Europe and beyond to put them into practice.
Partners
The ESNC has become a success thanks to its close collaboration with regional, institutional, and industrial partners in promoting innovation and entrepreneurship along the GNSS value chain. It is organised by Anwendungszentrum GmbH Oberpfaffenhofen (AZO), carried out in cooperation with the European GNSS Agency (GSA), and held under the patronage of the German Federal Ministry of Transport and Digital Infrastructure (BMVI). The European Commission supports the competition as prize awarding partner since 2011.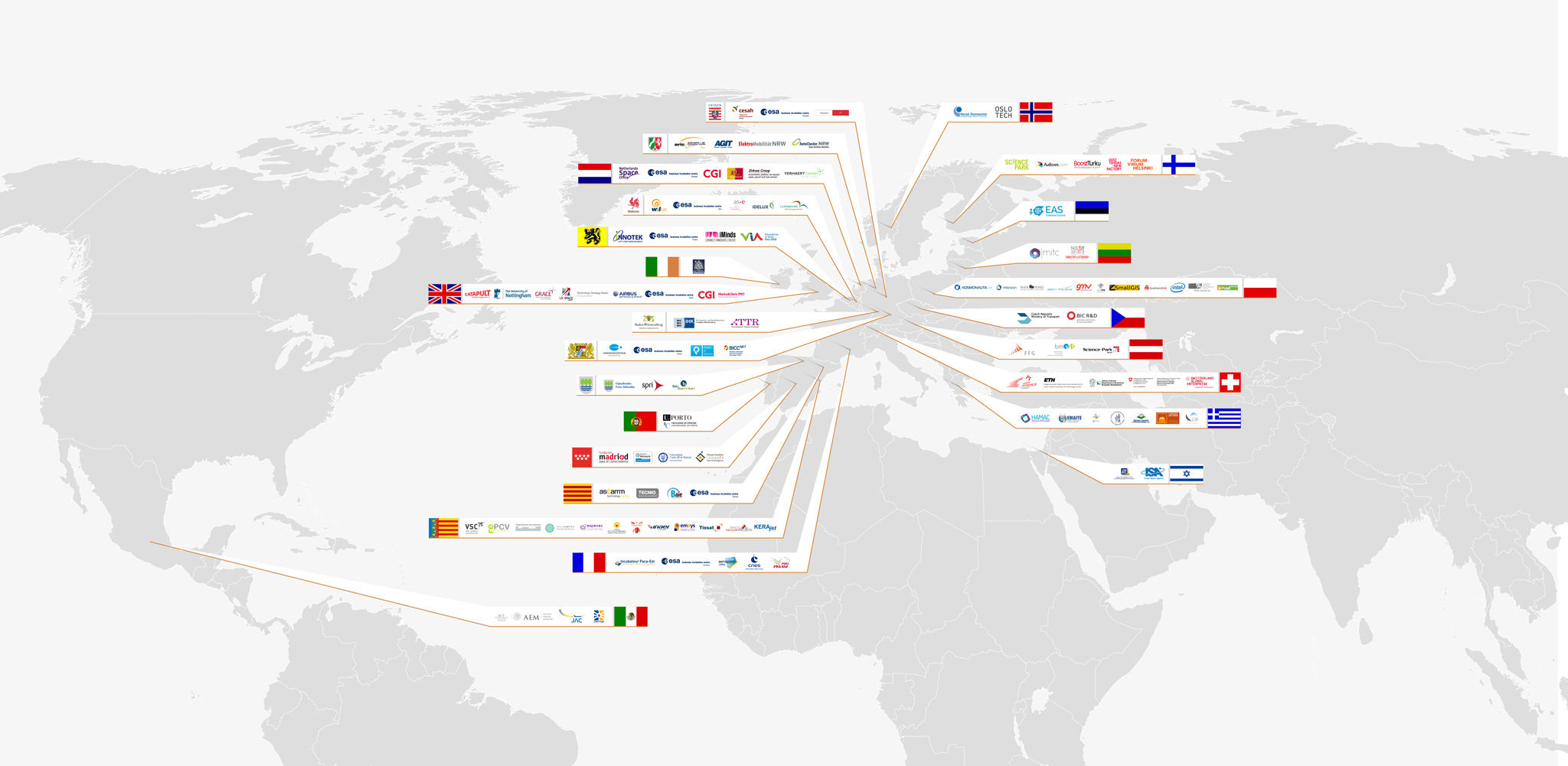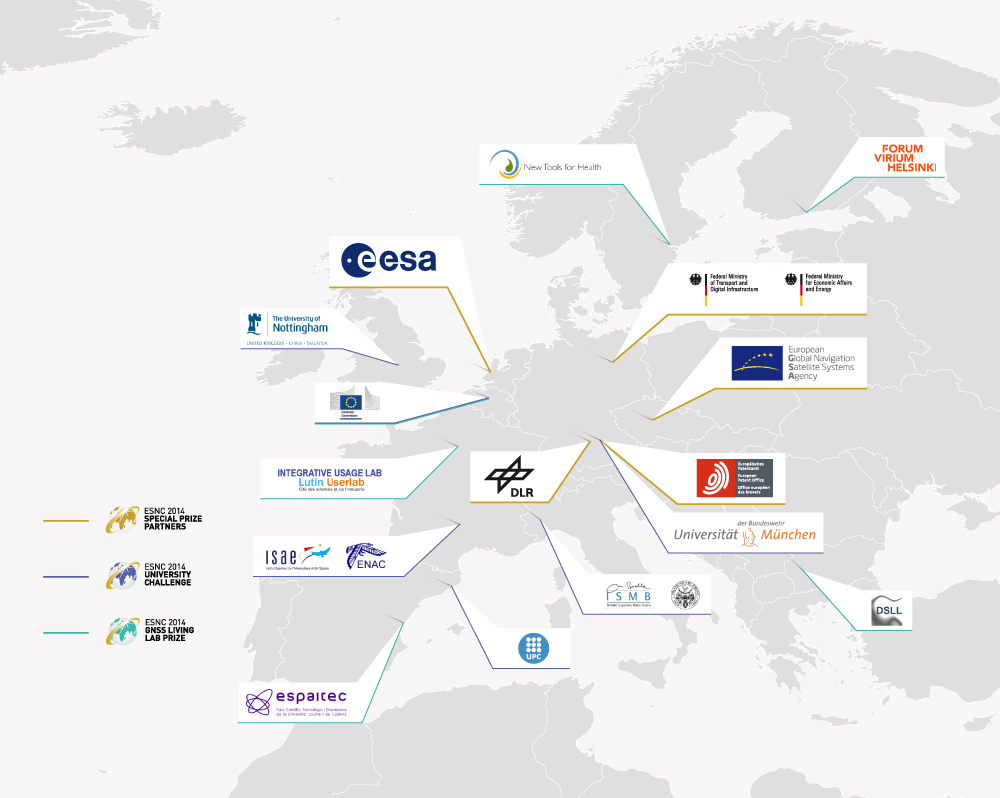 For several years, the ESNC's further partners have included the most relevant European stakeholders in satellite navigation, such as the European GNSS Agency (GSA), the European Space Agency (ESA), the German Aerospace Center (DLR), and the German Federal Ministry for Economic Affairs and Energy (BMWi), several GNSS-focused universities, as well as GNSS-related Living Labs. To strengthen its Europe-wide implementation, the ESNC is supported by more than 20 regional and national partners, including more than 130 organisations that host regional challenges.
Prizes
The ESNC's total prize pool is valued at approximately EUR 1 million. It includes cash, business incubation, business coaching, patent consulting, technical support, access to testing facilities, prototype development, publicity, marketing support, market and feasibility studies, access to experts and public funding, licences, and much more.
In ESNC 2016, regional prizes will be awarded e.g. by Asia, Austria, Baden-Wuerttemberg, Basque Country, Bavaria, Czech Republic, Flanders, France, Galicia, Hesse, Ireland, Israel, Lithuania, Madrid, The Netherlands, Norway, Poland, Romania, Sweden, Switzerland, United Kingdom, and the Valencian Community.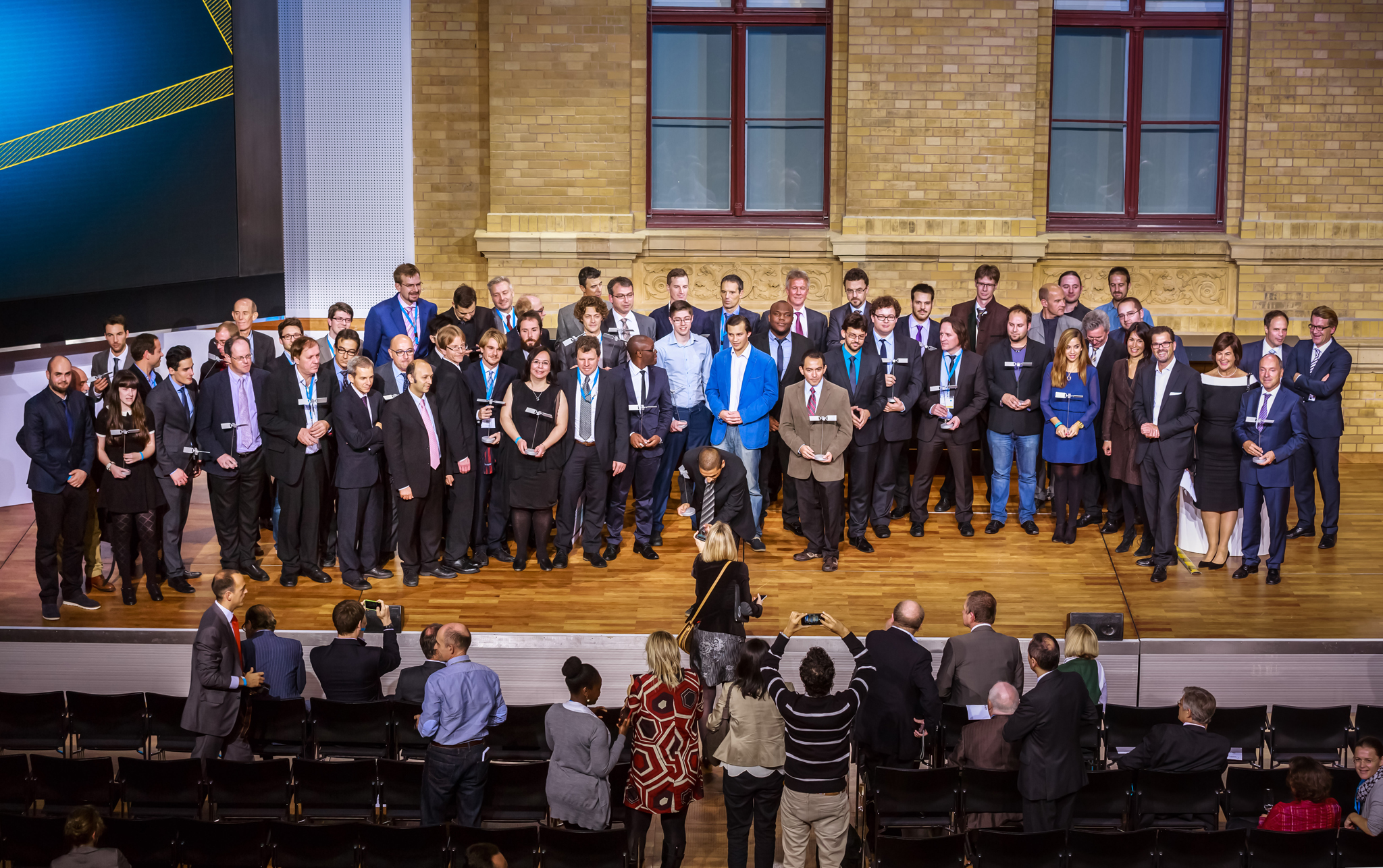 In addition to the ESNC's open-topic regional prizes, its institutional partners from the realms of industry and research offer special prizes that address certain topics related to satellite navigation. These partners are searching for innovative solutions to their specific needs based on satellite navigation. This format is intended to encourage joint realisation of the winning ideas by the respective winners and sponsors. More than 90% of all ESNC participants have also submitted their ideas for one of the special prizes in recent years, which demonstrates the enormous potential satellite navigation has in providing solutions to specific industrial issues. . In 2016, special prizes will be awarded by partners such as the European Space Agency (ESA), the German Aerospace Center (DLR), and German Federal Ministry of Transport and Digital Infrastructure (BMVI), Xunta de Galicia and BELS. In addition also a University Challenge as well as a GNSS Living Lab Prize were offered.
How to Participate
Ideas can be submitted from 1 April until 30 June each year via the competition website www.esnc.eu. The competition addresses everyone who make use of satellite navigation - e.g. start-ups, entrepreneurs, students, researchers, and private individuals. Between March and May, kick-off events organised by ESNC partners take place all over Europe, providing interested participants with first-hand information about the competition and its prizes.
Around 30 prizes are offered each year to support the realisation of innovations in the downstream space market. Participants can enter the running for one regional prize and one special prize. An international network of 240 international experts from industry and research is then entrusted with evaluating the ideas submitted. In September, an evaluation meeting takes place at which an international panel of high-ranking experts selects the year's overall winner.
All winners are then recognised at an annual Awards Ceremony in front of an audience that covers the satellite navigation and Earth observation community. In the past, these events have been held at venues such as the Allerheiligen-Hofkirche in Munich (2012), the Alte Kongresshalle in Munich (2013), and Deutsche Telekom's headquarters in Berlin (2014). In previous years the Awards Ceremony has taken place in line with major space conferences that brings together stakeholders in the downstream space market such as the European Space Solutions in Munich (2013) and the Satellite Masters Conference in Berlin (2014) and the Satellite Masters Conference in Berlin (2015).
The Manifold Application Potential of GNSS
GNSS technologies open the door to myriad application fields. Over the past decade, the ESNC has unearthed outstanding innovations and unexpected trends in the rising downstream satellite market and exhibited the broad scope of sectors addressed by Galileo and EGNOS. From healthcare and leisure to traffic management and rail, sea, and air transport logistics, individuals and entire industries alike can benefit from satellite navigation.
Agriculture
seeCrop – The Crop Recording App for Targeted Application of Crop Protection Chemicals
The IPF Toolbox, the UK's first web-based precision farming system, has over 130,000 hectares subscribed to the service. One of the key features of the Toolbox is its integration of high-resolution, multispectral satellite imagery. This is processed as a vegetation index and allows farmers to monitor the progress of their growing crops. The satellite data can be viewed on a tablet device, which makes it possible to identify areas of interest while out in the field. This project aims to develop this one step further: The new seeCrop app will enable farmers to pinpoint areas of crop damage and record their location using the tablet's GNSS receiver. After the type of damage is selected (pest, weed, or disease), a list of the most likely options will appear depending on the crop type and time of year. These agronomic observations will synchronise with the cloud-based IPF Toolbox, thereby allowing targeted applications of crop protection chemicals. This will save the farmer time and money and reduce the negative environmental impact of unnecessary chemical applications. Aggregated observation data from app users also has huge potential to facilitate pest and disease forecasting in the UK and abroad. The idea has been awarded as UK winner 2014. More agriculture solutions can be found here and here.
Logistic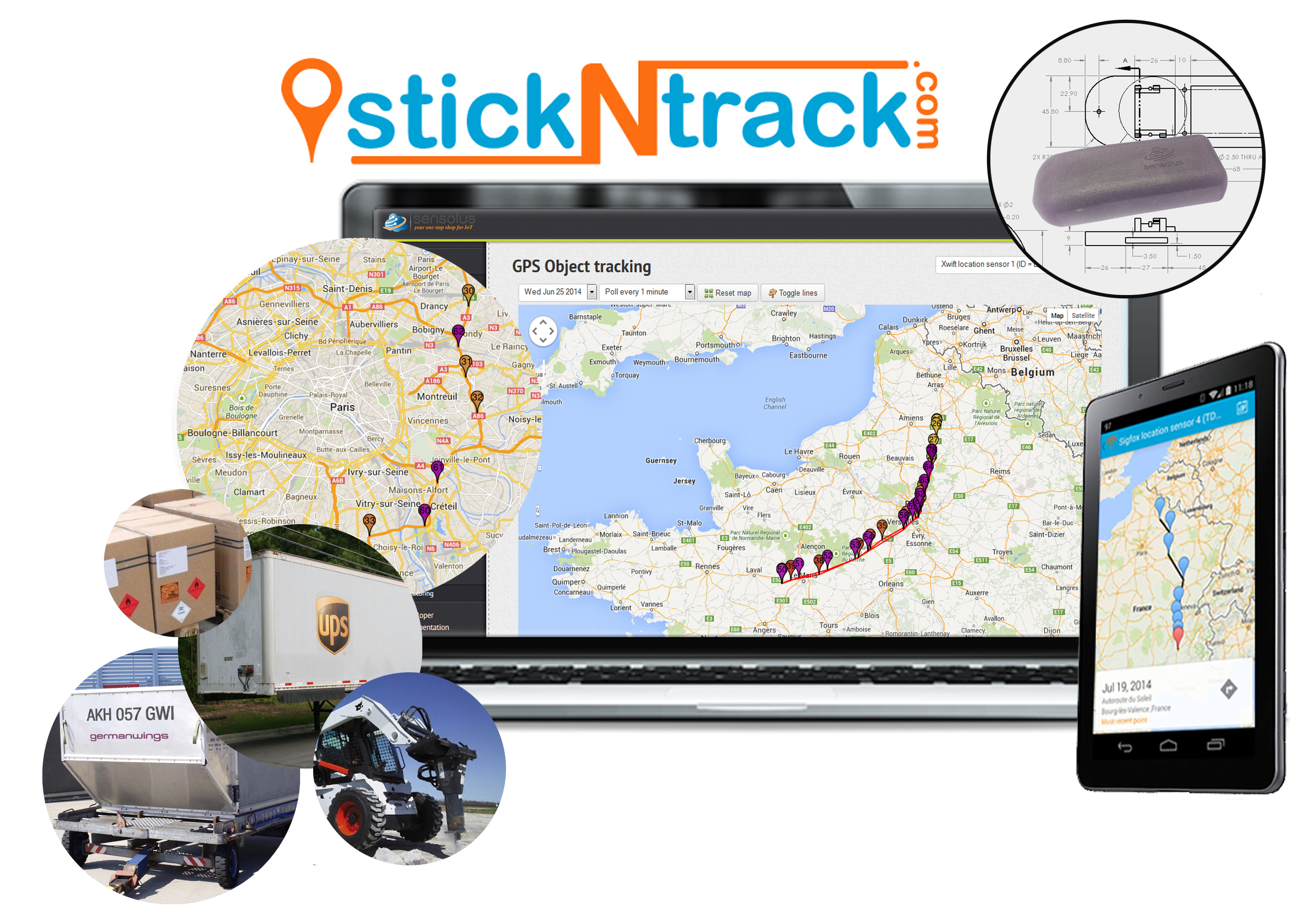 The Next-Generation Location Tracker – Just stickNtrack
stickNtrack is a disruptive innovation that opens up an abundance of new business opportunities in tracking trailers, containers, machinery, tools, bikes, and more. It is a plug-and-play location tracker that includes acceleration and tilt sensors. It functions for up to 10 years without the hassle of charging batteries, managing SIM cards, or any intrusive installations (no wiring and no professionals required). Its intelligent combination of technology and software provides a tracking solution that consumes up to 40 times less power and lowers life-cycle costs by 50% compared to existing compact GPRS/GPS products. This solution communicates on a commercial Ultra Narrow Band (UNB) radio network, which significantly reduces its power needs and recurring communication costs. Future accuracy and availability improvements based on GNSS will trigger additional advancements, such as by automating supply chains for packages and their delivery. Ultimately, stickNtrack is a next-generation location tracker that significantly lowers the barriers to embedding even more GNSS technology into our daily lives. The idea has been awarded as ESA and Flanders winner 2014. More logistic solutions here and here.
Rail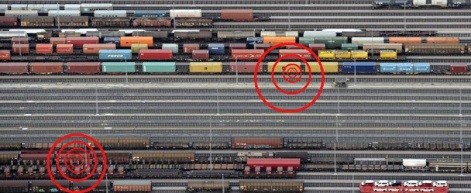 Winnetou: An Easily Installable, Solar-Powered Tracker for Freight Wagons
Winnetou is a new solar-powered device for tracking individual freight-railway wagons. It will continuously:
Capture a wagon's precise on-track position, orientation, and speed
Register shocks and vibrations
Record the outside temperature
Weigh the wagon's load
It will then send all this data to a central server in a secure fashion over the GSM network, either after an interval set by the end user or immediately in the event of an alarm condition. These can include an intense shock or a speed limit violation. Thanks to its solar energy supply and operational storage between -40°C and 65°C, Winnetou will be able to report back every 15 minutes, night and day, winter through summer, all over Europe and beyond - even when standing still. Since it combines GPS, GLONASS, Galileo, and EGNOS, Winnetou can tell exactly which track a wagon is on, even when obstacles partially block its view of the sky or when other tracks are close. Therefore, it can be easily mounted on all types of wagons, even low ones. It does not require a particular mounting position and can be welded or bolted. Winnetou contains no valuable components or data, no removable SIM card, and has no visible cables. The idea has been awarded as Flanders winner 2013. More Rail solutions here and here.
Aviation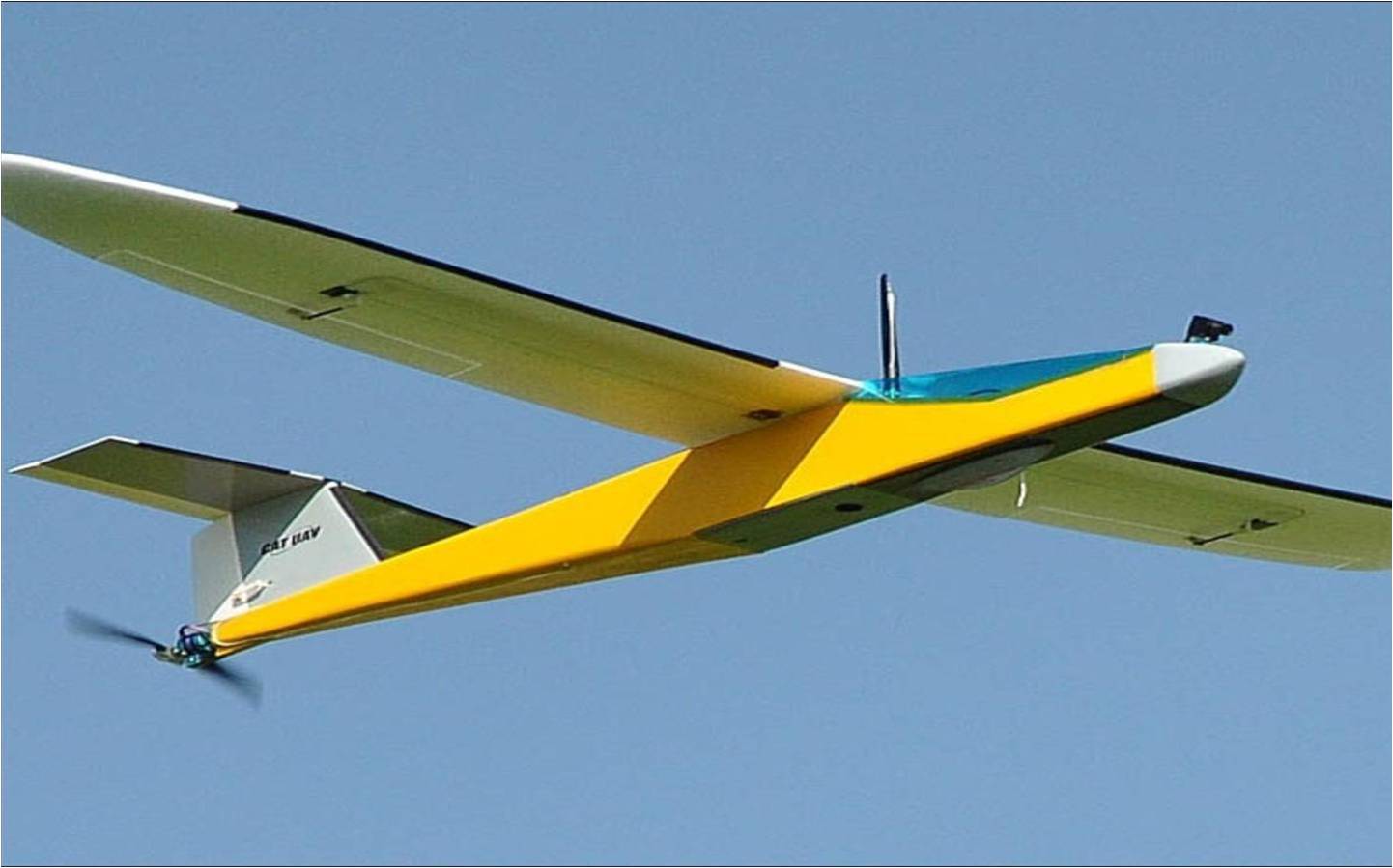 Traffic Collision Avoidance System for Mini Unmanned Aerial Vehicles
Unmanned Air Vehicles (UAV), which are already used extensively in the military field, are now starting to open up the civilian market. With the arrival of miniature sensors and electronic components, as well as batteries with improved specific energy, new operative mini UAVs have appeared. This type of device weighs less than 2 kg and has a limited payload. Nevertheless, the fact that it can be operated everywhere and at a low cost makes it ideally suited for civilian use. One of the drawbacks of mini UAVs is that they cannot carry the avionic systems required for flights in controlled airspace. As a consequence, their range and flying altitude is limited. With this project, we propose a new system that will help mini UAVs meet the legal requirements for flights in controlled airspace by enabling them to localise other aircraft and send their own data to the air traffic authorities and other aeroplanes flying nearby. This will create new applications for UAV technology. The idea has been awarded as GSA and Catalonia winner 2011. More aviation solutions here and here.
Sports and Tracking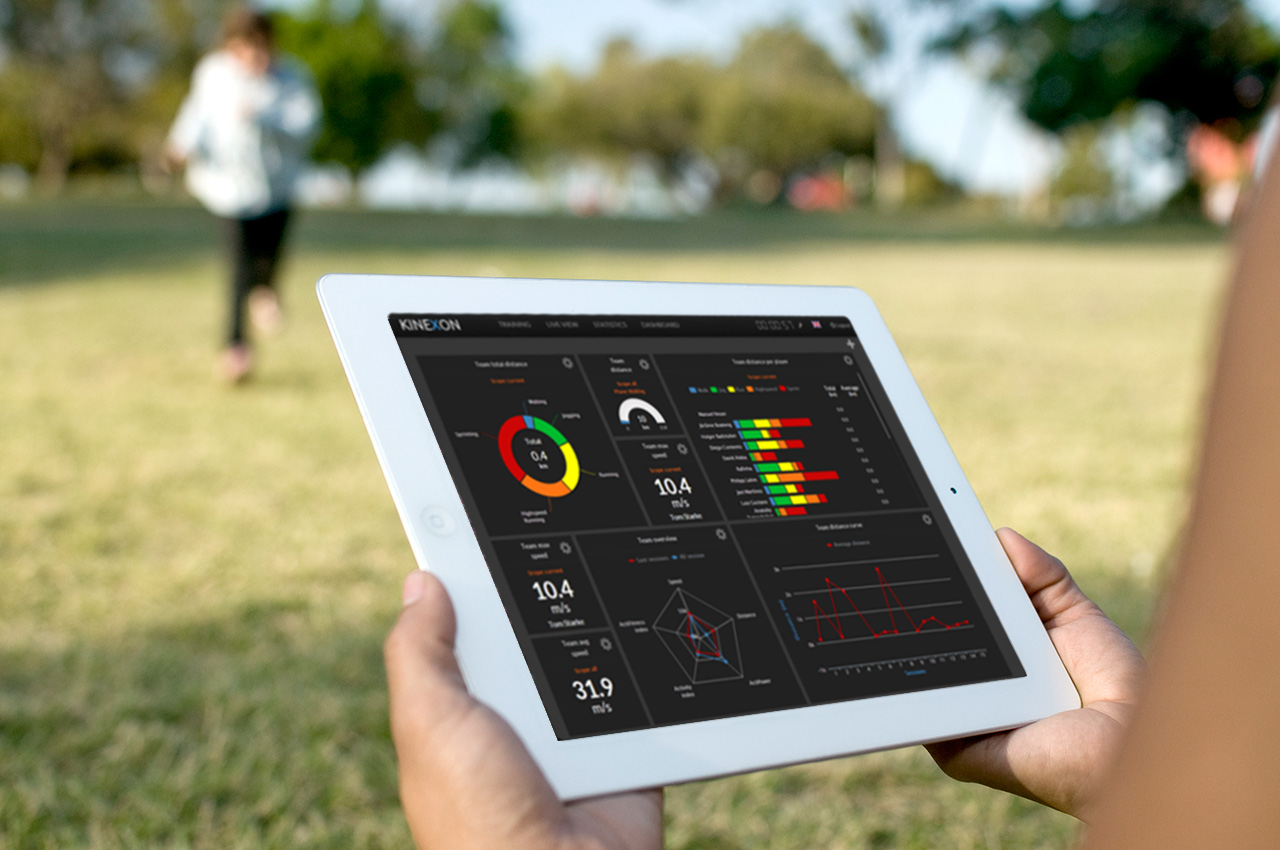 KINEXON: Precise Localisation and Monitoring for Sports and Healthcare
Many applications require tracking solutions that are precise, but at the same time affordable and small. The precision tracking solution fulfils these needs perfectly. The KINEXON CELL is a revolutionary wearable sensor that uses the latest space technology to track the positions of individuals and objects with centimetre accuracy. The corresponding KINEXON APP is a secure cloud-computing platform with a smart analytics application. It transforms big sensor data into valuable information in real time. Their product is a portable, cloud-based athlete monitoring system designed for all types of sports, including football, tennis, and American football. A tablet PC provides coaches with real-time insights into the performance, tactics, technique, and health of athletes and teams. They can measure, analyse, and improve athletes' performance to reach their full potential. Meanwhile, dedicated statistics help prevent injuries and support the rehabilitation process. Users access their data from any smartphone, tablet, or PC. The system's flexible and scalable architecture ensures quick adaptation to other use cases in the healthcare, logistics, and unmanned aerial vehicle sectors. Since winning the ESNC 2013, KINEXON has made another huge technological breakthrough: The centimetre-accurate 3D localisation solution (accuracy <10 cm) can now be used not only outdoors, but indoors as well! The solution is currently being used by renowned customers from various industries. This includes professional sport clubs (athlete monitoring), retailers (business intelligence), hospitals and care homes (asset and patient tracking, fall detection), and manufacturers (smart factories, automation). The idea has been awarded as overall winner 2013. More sports solutions here and here.
Augmented Reality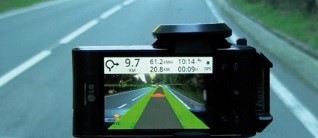 Wikitude Drive – Augmented Reality Navigation
Wikitude Drive is the world's first fully functional mobile Augmented Reality navigation system with global maps. It is a light-weight turn-by-turn navigation system that uses Augmented Reality (AR) to draw driving instructions directly onto the live video stream of your smartphone. Wikitude Drive distinguishes itself from other navigation systems in two ways: First, by superimposing directions onto a live video stream of the driver's surroundings, he or she can easily recognise and follow the suggested route. Instead of an abstract map, the driver looks at the real world and can simply follow a line. Secondly, Wikitude Drive solves a key problem of all other navigation systems, namely the way they force drivers to take their eyes off the road in order to look at an abstract navigation map. Since Wikitude Drive provides you with driving directions on top of a live video stream, you still see what is happening ahead of you when looking at your navigation system's display. Wikitude Drive works very well with the GPS system available today and proves that this technology is viable. However, due to the inaccuracy of GPS, driving directions are not fully superimposed onto the real street. The idea has been awarded as overall winner 2010. More Augmented Reality solutions here and here.
Emergency Response and Disaster Management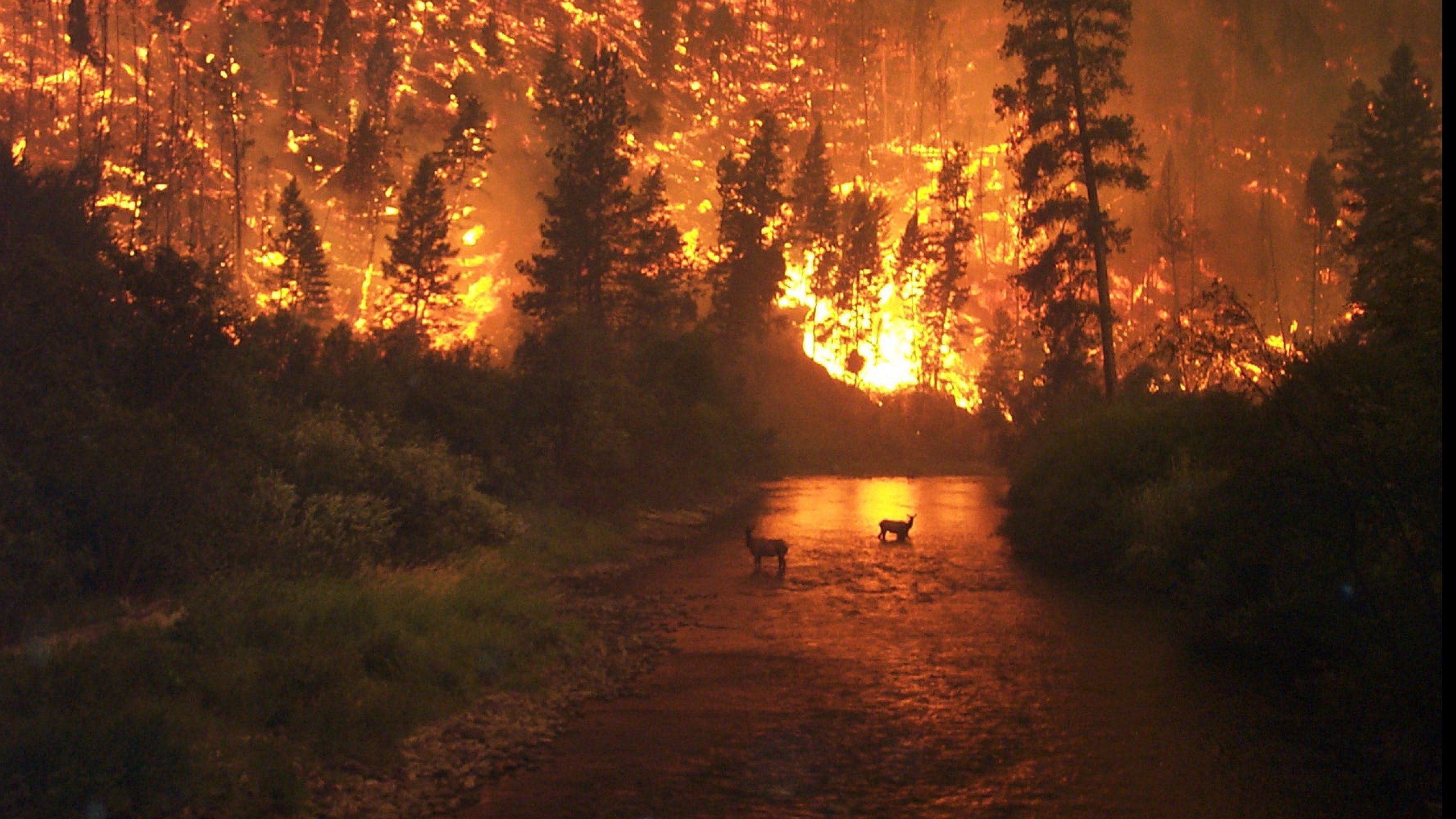 FOCUS: A System for Investigating the Cause and Origin of Forest Fires
Every year, 20,000 wildfires in Europe devastate 100,000 hectares of land. Of these fires, 90% are caused by people and 54% are intentional. Most of these fires require legal investigations to determine their origin, cause, and starting time. The starting point is located based on traces left by a fire in a process called the Physical Evidence Method. To identify a fire's path, investigators use markers (small red and white flags) as indicators of direction, locations of evidence, and starting points. The high degree of vulnerability of forest areas and the difficulties encountered by investigation teams require new technical solutions to improve procedures in fire origin location and data registration. FOCUS proposes the development of an integrated forest-fire investigation system that provides real-time data interpretation for identifying fires' starting points, along with reliable information based on accurate field measurements and field data registration. Through integration of different functionalities in a single portable electronic device, one single unit can replace the entire field investigation kit. The idea has been awarded as Valencia winner 2014. More Emergency Response & Disaster Management solutions here and here.
The Organiser
Anwendungszentrum GmbH Oberpfaffenhofen's business activities focus on supporting company foundations and commercial applications based on space technologies and infrastructures. In coordinating the European Satellite Navigation Competition (satellite navigation), the Copernicus Masters (Earth observation), and the Service Robotics Masters (Robotics) AZO has accumulated profound expertise in organising international innovation competitions. AZO also manages ESA BIC Bavaria – one of the most successful incubation programmes for the commercial use of space technologies and infrastructures – on behalf of the European Space Agency. In addition to participating in various space-related projects funded by the EU (FP7 in particular) and the German federal government, the company organises app developer camps (ESA App Camps) and international events such as the European Space Solutions Conference and the Satellite Masters Conference. AZO was founded in Oberpfaffenhofen – a well-known hub of the aerospace industry near Munich, Germany – by the German Aerospace Center (DLR) through the initiative and further assistance of the Bavarian Ministry of Economic Affairs and Media, Energy, and Technology in 2004.