If you wish to contribute or participate in the discussions about articles you are invited to contact the Editor
Package and Container Tracking
Jump to navigation
Jump to search
Applications

Title
Package and Container Tracking
Edited by
GMV
Level
Intermediate
Year of Publication
2011
With GNSS asset tracking applications, companies can improve efficiency and control the distribution chain of their products and shippings. These systems help to identify the location of cargo or containers equipped with GNSS receivers whilst in transit by road, rail or ships.
Usually vehicle management applications encompasses package and container tracking applications, allowing an integrated view of both cargo and vehicles.
Application Architecture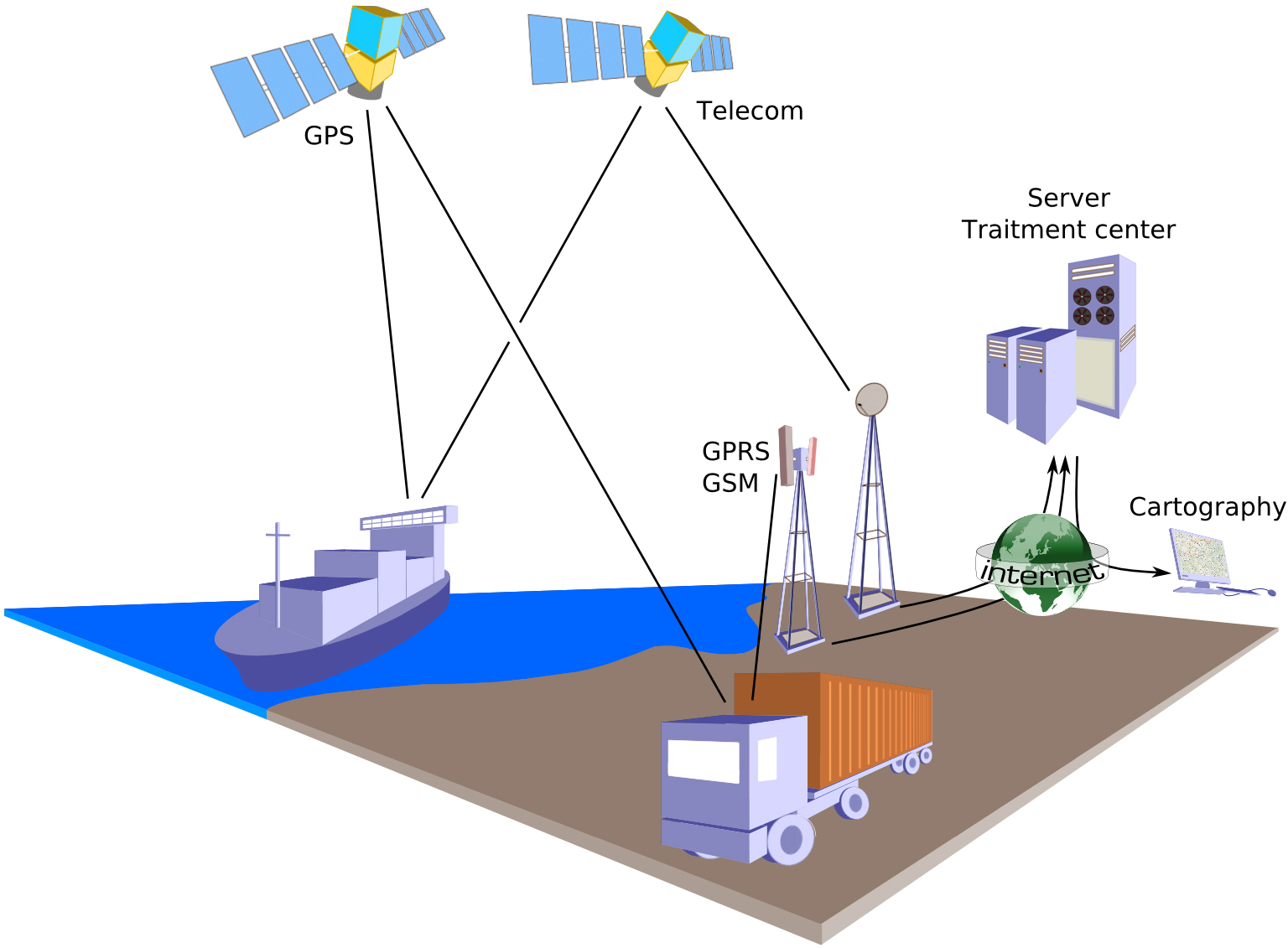 Package and Container Tracking, is closely connected with vehicles tracking. A system supporting vehicles fleet tracking can be extended to support the tracking of assets by incorporating low cost devices in the packages or containers.
The combination of GNSS technology with communication technologies (satellite, cellular, Wi-Fi) can provide continuous real-time tracking and tracing information during the journey.
Application Characterization
Package and container tracking systems are used for tracking of cargo, in trucks, ships or trains allowing a better management of the cargo. Shipments can be located if stolen and customer service can be enhanced with the ability for the shipper to accurately report delivery time.
Package and Container Tracking applications are very important for insurance companies, which can use the tool to obtain proper data about the whereabouts of a certain asset. The real time movements can be obtained, which allow the operators to take actions if an anomaly is detected.
Shipping customers or logistic companies can analyze data to choose the most efficient shipper. Package and Container Tracking applications usually offer the following capabilities:
Continuous assessing of real-time tracking and tracing information,
Control of shipment in a specified route, according to the plan and authorized path,
Incident prevention, due to the monitoring of status parameters,
Alarm rising in case of anomaly condition detection,
Recording and logging for regular roundup of reported incidents,
Informing the emergency response forces for the emergency management arrangements,
Safeguarding of expensive stolen cargo,
In an similar way as vehicle tracking these application can be sold as a product or as a service and normally are are provided with a standalone applications or access to a server that can show the position of the package or container on a map. These systems usually support geofencing, route monitoring and customizable alarms.
One of the drivers of the traceability & monitoring of containers and cargoes are governmental initiatives towards electronic customs. GNSS based tracking and tracing can support the implementation of an interoperable, paper-free customs environment and allow for the security and safety of goods crossing borders to be improved.
Tracking Containers
Whether at sea, on rail, stacked or stored, shipping containers can be tracked worldwide using GNSS container tracking devices[1].
Container tracking devices normally combine satellite communication technologies with GNSS positioning. Cellular network technologies can be used but communications are limited to covered areas which will limit the realtime tracking of the containers in open sea. Some tracking devices combine satellite communications with cellular communications and even Wi-Fi to achieve global coverage while keeping communication costs as low as possible.
One of the biggest problems of container tracking is that when stacked on ships or ports there might not be on line-of-sight with satellites for positioning and communication. To address this issue two possible solutions have been used:
Integration of container positioning with ship positioning - Instead of using container position, use the ship position when the container positioning is not available.
Short-range communication systems between containers - Establishing of a short range communication network between the stacked containers and the container(s) with satellite line of sight would send the positioning information for the other containers.
Container tracking devices can usually be integrated with external sensors for the detection of events such door opening/closing or to monitor container temperature or other environmental variables. Some can include 3D motion sensor that can detect whether the container in moving or not.
Tracking Parcels
The tracking of parcels or pallets sometimes is required if:
The goods are valuable, as safeguard for theft.
If the nature of the goods requires traceability.
To monitor the compliance with transport regulations.
To be able to inform customers or recipients of the expected arrival time of the goods.
Tracking of parcels or pallets is normally done with small transponders similar to the one used for personal tracking. These transponders combine high-sensitivity GNSS chipsets with cellular communications to enable the realtime tracking of objects usually with geofencing and alarm capabilities. High-sensitivity GNSS is normally required for these transponders since usually they are inside the parcel and usually travel inside closed vehicles.
Tracking of Dangerous Goods
The transportation of dangerous industrial waste from its originating source to the site where it will be treated is increasing every year. Trucks carrying the waste-filled containers typically travel through several countries for several days. For security reasons, and to ensure that all the waste arrives where it is intended to, GNSS is being used to track industrial waste containers throughout its journey.[2]
The safe transport of nuclear material is regulated by the International Atomic Energy Agency (IAEA) rules. In Europe, the transport of radioactive material is also regulated by the laws regulating the transportation of dangerous goods. Such regulations classify the dangerous material such as nuclear waste and material, and establish rules for the relevant safe and controlled transportation[3].
None of these regulations specifically oblige the use of positioning technology, although the use of GNSS provide enhanced and guaranteed positioning allowing to support law enforcement and to cope with the security needs.
Application Examples
In an similar way as vehicles tracking these application can be sold as a product or as a service and normally are are provided with a standalone application or access to a server that can show the position of the container on a map. These application normally geofencing, route monitoring and customizable alarms. Usually these services require a subscription. Normally these providers have a local nature having each country specific providers. There are too many providers to list here.
Notes
References
^ ESA Portal, Satellite helps make transportation of dangerous waste safer
^

GNSS Tracking site, MENTORE project