If you wish to contribute or participate in the discussions about articles you are invited to contact the Editor
Aviation Products
Jump to navigation
Jump to search
Applications

Title
Aviation Products
Edited by
GMV
Level
Intermediate
Year of Publication
2011
The development of GNSS has provided a supplementary positioning service for many flight phases, for both leisure and commercial air transport. The satellite navigation receivers are now commonly installed in aircraft and will assist pilots in all flight phases, from movement on the ground, to take-off, en-route flying, and landing in all weather conditions, reaching the level of safety that will be required to cope with the continuous increase in the number of flights. [1] Air traffic controllers will receive from the aircraft's accurate position information, due to the adoption of GNSS technology on board.
When planning aircraft routes and landing schedules at busy airports, it is essential to ensure that aircraft are always a safe distance from each other. GNSS, will provide a guaranteed service with sufficient accuracy to allow airlines and pilots to know their position reliably and precisely enough to make substantial efficiency savings.[2]
Overview of Aviation Products
Aviation GNSS applications and products have been one of the main drivers of GNSS Augmentation systems. The ICAO GNSS Standards [3] defines three architectures to augment GNSS constellations for aviation, ABAS (Aircraft Based Augmentation Systems), GBAS (Ground Based Augmentation System) and SBAS (Satellite Based Augmentation System).
The GNSS aviation market is target for two types of consumers: Commercial Aviation (CA) and General Aviation (GA).
The general aviation includes leisure and business flights, as well as, surveillance equipments, covering a wide range of products. Most of them are portable standalone devices, that easily provides to the pilots a cheaper flight management system (FMS).
Commercial aviation, includes passenger and cargo flights and involves Flight Decks integrated in aircraft's avionics.
Flight Decks and Avionics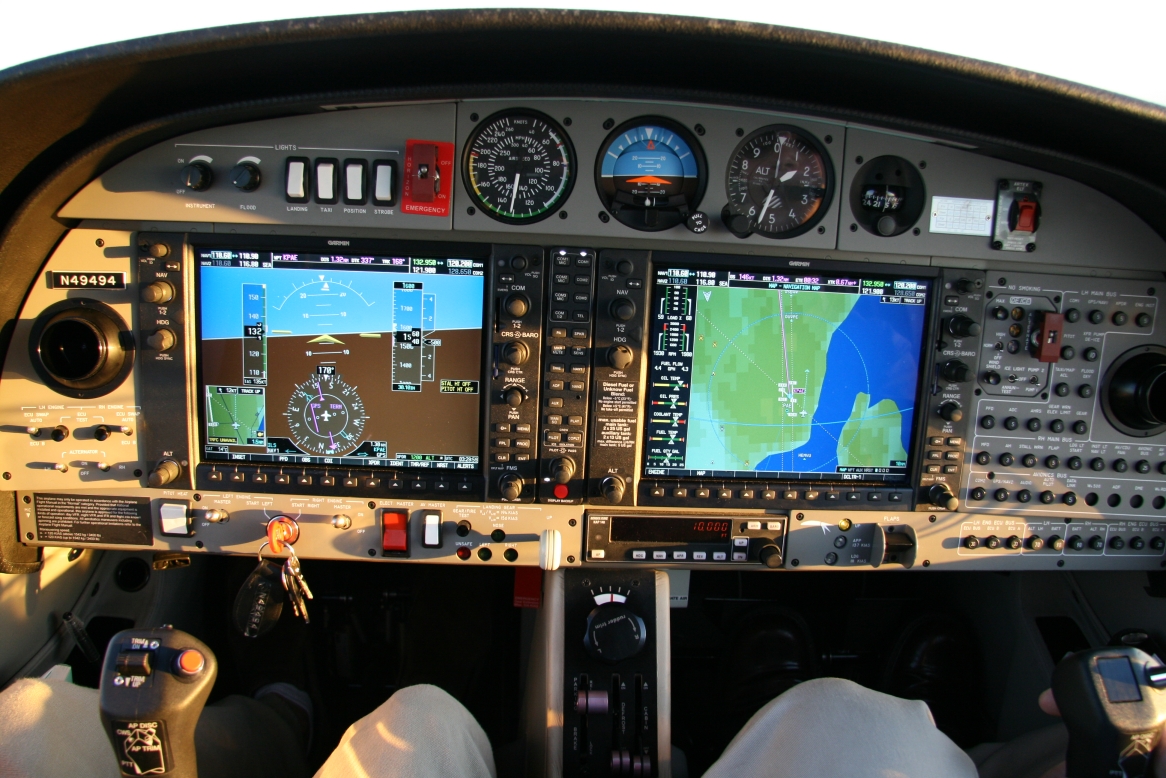 The Flight Decks and Avionics, or Glass Cockpit are products target for both Commercial Aviation and General Aviation. However, the Commercial Aviation applications are usually OEM products integrated in aircraft's avionics.
In General Aviation aircraft the Flight Decks and Avionics are also available from factory installation in many aircraft. Although, these applications can be customized and replaced by other Glass Cockpit products.
These products are commonly equipped with GNSS receivers providing significant enhancements in awareness information to the flight crews.
In Commercial Aviation the glass cockpit systems replaced efficiently the flight engineer, due to the situational awareness capabilities provided by the displays.
Detailed information about Flight Decks and Avionics can be found here.
Notes
References